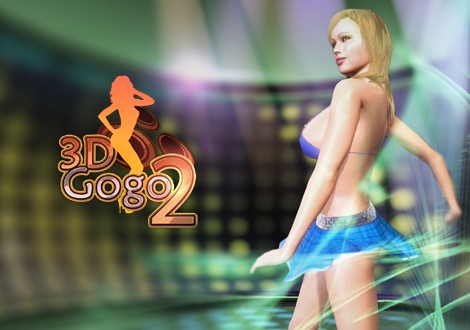 3D GoGo 2
Adult dancing game with private sexy stripper slut
Download an interactive sex simulation and play with virtual strippers dancing right on your desktop. 3D GoGo 2 is a new version of adult simulator with naked girls. Customize your babe, turn on your favorite music and tell her to start dancing. Watch her strip just for you. You have a great opportunity to meet and have fun with private go-go dancer.

It is possible to control everything, the game offers many cool features and model editors. Open easy to use creator and design the perfect body. Do all you can to build the most beautiful chick on the Internet. Setup her breast size, nipples, pussy, haircut, body colors and shape, eyes, face. Think about clothes that make you horny. Open wide 3D GoGo wardrobe full of sexy uniforms. Put her on erotic bras, miniskirt and thongs. Collect styles like a shy schoolgirl or pervert domina in latex outfit.

One of the best feature of 3D GoGo 2 is a possibility to play your favorite songs. Watch sexy sluts dancing and stripping to the best DDR recordings. Compete against other players and show who is the best. Follow the arrows and see how she moves gently. Change stage type, sequences, lightning, animations, effects and strip your private virtual erotic dancers.
Send that link to e-mail and play later...